Breadcrumb Navigation
Tabs
Forum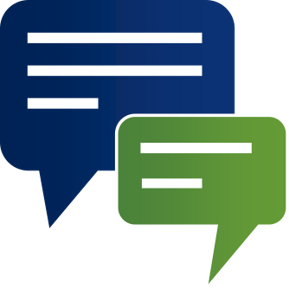 Im Forum können Sie gemeinsam Fragen und Antworten nach Themen sortieren, es bietet eine Abonnement-Funktion. Foren können zur Dokumentation und Analyse von Fragen/Austausch zu Themen genutzt werden und bieten hierfür Funktionen zur Statistik, Moderation und Bewertung. Foren können den Austausch der Lernenden untereinander oder mit Lehrenden erleichtern, besonders in Onlinekursen mit wenig oder keiner Präsenz. Weiterhin können Fragensammlungen im Sinne eines FAQ den Aministrationsaufwand perspektivisch minimieren.
 
In a forum you can jointly sort questions and answers by topic. Furthermore, there is a subscription function. Forums can be used to document and analyze questions and exchanges and therefore offer statistical, moderating and evaluation functions. Forums can facilitate the exchange of the students among each other or with lecturers, especially in online courses with low or even no presence. Furthermore, collections of questions in form of a FAQ can perspectively minimize the administrative effort.
Klicken Sie auf "Neues Objekt hinzufügen" und wählen Sie "Forum".
Benennen Sie das Forum und wählen Sie "Forum anlegen".
Click on "Add New Item" and select "Forum".
Choose a name for the forum and select "Add Forum".
Wählen Sie im Reiter "Themen" die Schaltfläche "Neues Thema", um einen neuen Thread zu eröffnen.
Benennen Sie Ihren Thread unter "Thema" und geben Sie unter "Beitrag" Ihren ersten Beitrag ein.
Unter "Datei anhängen" können Sie entscheiden, ob Sie eine Datei anhängen möchten. Unter "Benachrichtigung" können Sie einstellen, ob Sie per E-Mail benachrichtigt werden wollen, wenn auf Ihren Beitrag geantwortet wird.
Bestätigen Sie mit einem Klick auf "Erstellen" Ihre Eingaben.
Under the tab "Threads" select the button "New Thread", to create a new topic.
Name your thread and enter your first post in the text field "Posting".
With "Add Attachment" you can choose if you would like to add a file. Activating "Notifications" will cause an email to your inbox for every change that will be made in the thread.
Confirm your input by clicking on "Create".
Under the tab "Thread" select a topic by clicking on it. The posts of the topic are now presented.
By clicking on "Add Posting", you create a new post of the topic you selected.
Select "Reply", to answer to a specific post.
By clicking on the bell symbol in the right section at the head of the view, you can decide whether you would like to receive notifications on this thread.
If you are a moderator of a forum, you can highlight single topics.
For that select the topic in the thread overview by checking the box on the left side of each topic.
Afterwards select the option "Make Threads Sticky" in the drop-down menu.
Confirm your input by clicking on "Execute". Afterwards the selected topics are highlighted.
Wählen Sie im Reiter "Themen" ein angezeigtes Thema aus, indem Sie auf dieses klicken. Ihnen werden nun die zum Thema gehörigen Beiträge angezeigt.
Durch einen Klick auf "Neuer Beitrag" erstellen Sie einen neuen Beitrag zu dem Thema, in dem Sie sich befinden.
Wählen Sie "Antworten", um auf einen spezifischen Beitrag antworten zu können.
Mit einem Klick auf das Glockensymbol im oberen, rechten Bereich der Ansicht können Sie entscheiden, ob Sie Benachrichtigungen erhalten wollen.
Sind Sie Moderator*in eines Forums, können Sie einzelne Themen besonders hervorheben.
Wählen Sie hierzu in der Themenübersicht unter dem Reiter "Themen" Themen aus, indem Sie ein Häkchen in das vor dem Thema stehende Kästchen setzen.
Wählen Sie anschließend aus dem Drop-Down Menü die Option "Thema zum "Top-Thema" machen".
Bestätigen Sie Ihre Eingabe durch einen Klick auf "Ausführen". Anschließend wird Ihr Thema in besonderer Weise hervorgehoben.
Passen Sie unter dem Reiter Einstellungen das Forum für Ihre Zwecke an.
Klicken Sie "Speichern", um Ihre Änderungen für das Forum zu sichern.
Under the tab "Settings" you can adjust the forums' settings.
Click on "Save" to confirm the adjustments for the forum.
Forum - Moderator/in hinzufügen
Wählen Sie den Reiter "Moderatoren".
Geben Sie einen Benutzernamen im dafür vorgesehenen Textfeld ein und wählen Sie "Hinzufügen".
Alternativ können Sie Benutzer*innen aus der aktuellen Gruppe als Moderator*in hinzufügen. Wählen Sie hierfür die Schaltfläche "Benutzer als aktueller Gruppe hinzufügen" eine*n Benutzer*in aus. Durch einen Klick auf das Kästchen links der angezeigten Namen und einem Klick auf "Hinzufügen", werden Nutzer*innen nun Moderator*innen des Forums.
Select the tab "Moderators".
Enter the usernames in the intended text field and select "Add".
Alternatively you can add users of the current group as moderators. Therefore select the button "Add Users Of Current Group/Course" and select a user. By checking the box on the left of the displayed names and by clicking "Add" you add the selected users as moderators.
Wählen Sie den Reiter "Statistik".
Hier können Sie nun sehen, welche Personen wie viele Foreneinträge verfasst haben.
Select the tab "Statistics".
Now you can see which persons wrote posts in the forum and how many post each person wrote.
The following resources linking to that term:
Lernmodul Didaktische Zielsetzungen: didaktische Zielsetzungen (3/13)
Lernmodul Didaktische Zielsetzungen: didaktische Zielsetzungen (5/13)
Lernmodul Didaktische Zielsetzungen: didaktische Zielsetzungen (9/13)
Lehre ohne Präsenz gestalten: Seminar (2/2)
Projektdokumentation eduScrum - digital: Umsetzung des Gruppenraums (4/6)